VIDEOS
Due to the generous support of our retirees and friends, we are pleased to offer professional video recordings of some of the LIR programs.

Professor Filippenko's lectures from the LIR Series, Relativity, The Cosmos, And Developments In The Past 100 Years are available.
To get access to the video presentations of the series please email ucbrc@berkeley.edu

AGING & MEMORY VIDEOS
Organized by Professors Donald A. Riley and Carol D'Onofrio in consultation with Professor William Jagust.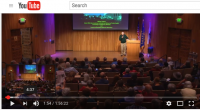 "Memory: Description of Memory and Its Measurement;
Memory maintenance; how memory changes with age."
William Jagust, Professor of Public Health and Neuroscience
Video available on YouTube at this link: https://youtu.be/NDirvRfnY10?t=1m54s

"Sleep and Memory: How sleep affects what we can remember as we age."
Bryce Mander, PhD.  Department of Psychology
Video available on YouTube at this link: https://youtu.be/y5cKly25v3I?t=6m30s
"Understanding Alzheimer's Disease" 
William Jagust, Professor of Public Health and Neuroscience
Video available on YouTube at this link: https://youtu.be/qr3JywaEPdk?t=7m9s