How to Purchase Permits
Online
You can purchase parking permits online using a credit card. All permits purchased online will be mailed to you at your home address. Please see Parking FAQ, below, before making your purchase. Our online store is hosted by the UC Berkeley University Village Recreation department. See "How to use the Online Application and Payment System" for detailed instructions on using the online store.
links to purchase permits online:
In Person
Purchase permits in person during open hours, 1pm-4pm, Monday-Friday. We are occasionally closed during this time, so please call ahead (510-642-5461) before stopping by. If you choose to purchase permits in person, please bring your checkbook as we are unable to accept cash or credit cards in the office.
Parking FAQs
The following are FAQs (frequently asked questions) regarding our discounted parking permits for retirees: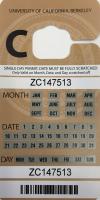 Where can I park on campus during the day time?
Single-use C hangtag permits allow retirees to park in unreserved lots on campus at any time of day or night. You may purchase as many C campus permits as you need to cover your enrollments in UCBRC programs. For example, if your registration for Learning in Retirement courses and special events comes to three dates, you may purchase three C campus permits. Note: C permits are not to be used for any purpose other than attending a UCBRC event. Any permit purchased for a UCBRC event but not used should be saved and used to attend a future UCBRC event. C permits cost $6.00 each. 
If you need to park on campus during regular business hours and are not attending a UCBRC event, you must purchase visitor parking. Visit http://pt.berkeley.edu/parking/visitor-parking to find a list of paid visitor lots with parking maps. Metered parking is also available on the streets surrounding the campus.
What if I need to park for an evening or weekend program?
Single-use NW hangtag permits allow retirees to park in unreserved lots on campus after 4:30pm M-F, and all day on weekends (subject to terms posted at each lot). NW permits are sold in packs of 10 and cost $53.75.
Where am I allowed to park?
The Parking and Transportation website has comprehensive parking maps that you can review before heading to campus: http://pt.berkeley.edu/maps%20. You can search lots by permit type, or view all campus lots.
Where is my C permit valid?
Permits are valid all day in C, F, H, and S lots, subject to posted signs. After 10am, C permit holders may park in unused carpool spaces in any lot.
Can I share my permits with other people?
If you purchase a C permit for a UCBRC event but are then unable to attend, you may hold the C permit and use it for a future UCBRC event, or give it to another registered retiree. You may not use UCBRC-issued C campus permits for any purpose other than to attend a UCBRC program or event. You may share your NW permits with your guests.