Physical distancing and keeping connected can work together. You may have heard about how the world is connecting more via online tools like Zoom and social media.  We've followed the media and included some current articles in the news below.

We realize these tools like zoom may be unfamiliar to some. We want to give everyone a chance to learn how to connect virtually, safely.  Below are some resources (Thank you to Osher Lifelong Learning Institute for developing a guide to zoom!) and information for two virtual "zoom" tutorials we have coming up.   Any questions, please email ucbrc@berkeley.edu. 


'Fight the Phish' is a phishing awareness campaign designed by the Information Security Office to keep our community safe.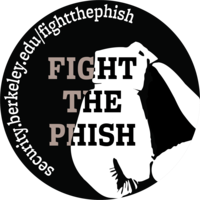 Materials to help you identify, report, and avoid these types of attacks.
The COVID-19 pandemic has brought with it new cybersecurity risks in the form of phishing attacks. It is important to be vigilant at all times and remain suspicious whenever you're asked for your credentials and other personal information.
Phishing attacks can occur through email, phone calls, texts, or instant messaging. Some attacks try to trick you into installing malware on your devices. This malicious software can track how you use your computer and send valuable information to identity thieves.
Attackers are after your usernames, passwords, credit card information, Social Security numbers and other sensitive data. Some will try to get you to purchase gift cards by masquerading as a trustworthy entity.
To assist in mitigating these risks, the Information Security Office created Fight the Phish, an awareness campaign to help educate you on ways to identify, avoid, and report phishing attacks.