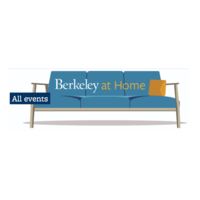 Weekly Berkeley At Home Variety Show
Think of it as a weekly homeroom video for the campus community, featuring messages from Chancellor Carol Christ, news updates, cooking ideas, fitness tips and interviews with Berkeley's brightest.

COVID-19 Vulnerability and Mortality in Nursing Homes: Why Systemic Changes are Needed Now
Webinar, Tuesday, July 21, 2020, 9:00-10:00am PDT 
How can we better protect loved ones in long term care from COVID-19? In many states, nursing home patients account for 40% of COVID-19 related deaths. Drawing on front-line experience and published research, this webinar will examine strategies for lowering illness and death rates among this highly vulnerable
Age Against the Machine: The Fatal Intersection of Racism & Ageism in the Time of Coronavirus
Podcast
On this episode of Intersectionality Matters, Kimberlé Crenshaw is joined by two timely voices -- Ashton Applewhite, author of This Chair Rocks: A Manifesto Against Ageism, and J.R. Fleming, Executive Director of the Chicago Anti-Eviction Campaign -- to discuss how ageism, and its varying intersections with race, class, ability, and gender, is materializing in the fight against COVID-19.
Why COVID-19 Preys on Older Adults: What the Science Says (and Doesn't Say)
Recorded webinar June 9, 2020

This webinar was the first in a series presented by the American Federation for Aging Research (AFAR) and Grantmakers In Aging, in which scientists and geriatricians will present the research behind care, lifestyle interventions, and programs that can help decrease older adults' vulnerability to COVID-19. AFAR experts will share perspectives that can influence clinical, social, and self-care and inspire new collaborations between the scientific, medical, aging services, and philanthropic communities.