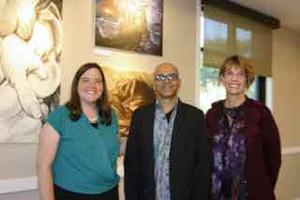 Art opening offers Art Practice students an off-campus exhibit opportunity  
More than 100 people attended the opening of the first student art exhibit co-hosted by the UC Berkeley Retirement Center, the UC Berkeley Department of Art Practice and Belmont Village Senior Living. The juried show entitled Conversations and Art featured sixteen student art pieces that, in the judging criteria, would engage or encourage conversation between students and elders.
"I am very proud of the students who participated in this exhibit," said Allan DeSouza, Chair, Department of Art Practice. "We encouraged attendees to meet the students and talk about their inspirations and art expressions. This is a valuable new partnership for our department, and we appreciate the opportunity it affords for students to exhibit and show their work.  I look forward to more openings ahead."
DeSouza, along with faculty members Aida Gamez, Masako Miki and Indira Morre, presided over the jury selection process. Pieces encompassed a range of expression from provocative to quiet.  Artwork media included oil, acrylic, charcoal and pencil. 
"It was a wonderful evening. The students were so honored and the residents and guests were impressed by their talent," said Cary Sweeney, MS, UC Berkeley Retirement Center Director. "I'm looking forward to the next event."
The art exhibit is the first installment of what has been planned as a rotating gallery display in Belmont Village Albany's Town Hall to encourage ongoing intergenerational interaction, one of the goals established as a part of Belmont Village's affiliation with the University.  The next art exhibit is due to open in 2018. To tour the community or view the art exhibit, please call 510-525-4554.