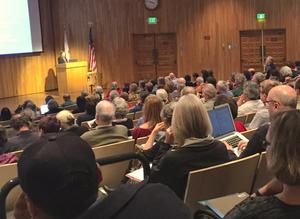 Fall 2016 Dates:

September 14
September 21
September 28
October 7
---

Spring 2017 Dates:

February 8
February 15
February 22
March 1
Registration is required; the link to registration will be posted here on the website once available. 
If you would like to receive notification an email when registration is open, please email prp@berkeley.edu, subject line: "Add to PRP notify list." Indicate which semester your are interested in attending. 
---
Planning to retire from full time work? Are you ready? Our Pre-Retirement Planning (PRP) program guides employees through four afternoons of classes that cover everything from retirement benefits to work-life transitions and is offered twice a year in the Fall and Spring. 
Traditionally, pre-retirement planning programs emphasized the employee benefits and financial factors related to retirement planning. Our dynamic and collaborative PRP focuses not only on these important issues, but also more personal issues such as work-life transitions, emotional preparedness and new or part-time employment
All classes are from 2:00 - 4:30 pm.  Location provided upon registering. 
SOCIAL SECURITY AND YIN AND YANG OF RETIREMENT
Welcome and Introduction, Cary Sweeney, Director, UC Berkeley Retirement Center
What Social Security Can Do For You, Angellica Yi, Social Security Administration 
Retiree Panel, Retiree Staff and Faculty Panel, Yin and Yang of Retirement
UC RETIREMENT BENEFITS
Maximizing Your UC Benefits in Retirement, UC Office of the President Retirement Administrative Services Center Representative 
RETIREMENT INCOME AND FINANCIAL PLANNING
Fidelity Investments and Your Plan, Laura Crymble, Retirement Counselor, Personal and Workplace Investing, Fidelity Investments
Financial Planning for Retirement, Richard Faw, CFA, FSA, CAIA, FRM, President and Founder Setarcos Investment Advisors LLC
EMOTIONALLY PREPARING FOR RETIREMENT and work-life transition
Emotional Readiness for Retirement, Leslie C. Bell, Ph.D., LCSW, CEAP, Employee Assistance Counselor, Care Services for Faculty and Staff, University Health Services, Tang Center  

Called Back to Service at Cal and Employment Transitions Employment Program, Janet Suko, Benefits Manager, Human Resources and Linda Lundberg, Lead, Transition Services
Post Academic Employment, Angelica Stacy, Associate Vice Provost for the Faculty and Heather Archer, Assistant Vice Provost for Academic Personnel
Presentation Slides:  https://drive.google.com/drive/folders/0B_CFNX9arbLyfjhBZEJhWHkzMzFkblVCamFNWUJkV0JCYy1SaW9TbzM2U0M0OEhsajFZaUE
---
"Retirement can be scary because of the unknown. These sessions helped me realize what I can do to prepare, and took away many unknowns. Of course, it also makes me realize how much I still need to do, but at least I 'know' what I need to do!" -- Katherine Loyd, IST Applications Programmer, PRP participant Spring 2013
---
Program Information
Who should attend?
PRP is optimal for UCB and LBNL faculty, academics and staff planning to retire in five years, but is valuable to anyone expecting to do so in the next one-to-five years. There is no hard-and-fast rule on when an employee should start thinking about retirement planning.  Most who have participated in PRP since its inception in 2002 have been 1-5 years from their retirement date.
How to Register
When PRP is open for registration, we will post an announcement on this website and send an email out via the campus HR network. If you would like receive notification emails for future semesters, please email prp@berkeley.edu, subject line: "Add to PRP notify list."
Background
As early as 1999, the Retirement Center recognized a need for a comprehensive program to assist faculty, academics and staff from UC Berkeley and the Lawrence Berkeley National Laboratory with the process of planning for their life after full time employment. The PRP program aims to help attendees plan and implement a successful strategy for their next chapter.
With expert faculty, PRP modules complement and build upon each other; all modules are applicable to faculty, academics and staff. This program is free of charge to active faculty, academics and staff of UC Berkeley and Lawrence Berkeley National Laboratory.