Aging Network gives suggestions for finding volunteer opportunities through different national agencies. http://agingnetworkvolunteers.org/older-adult-volunteers/
---
Corporation for National and Community Service
http://www.nationalservice.gov/
Corporation for National and Community Service (CNCS) is a federal agency that engages more than 5 million Americans in service through its core programs: Senior Corps, AmeriCorps, and the Social Innovation Fund.  As the nation's largest grant maker for service and volunteering, CNCS plays a critical role in strengthening America's nonprofit sector and addressing our nation's challenges through service. Search for volunteer opportunities with AmeriCorps and Senior Corps on their website.
---
The Peace Corps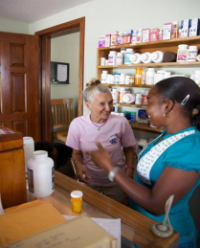 More than 7% of Peace Corps volunteers are older than 55; the oldest currently serving volunteer is 87. Volunteers work in Education, Health, Environment, Economic Development, Agriculture and Youth Development, ranging from six months (Response Program) to 27 months (traditional program). Peace Corps currently serves in more than 60 countries around the world; the most recent addition is Viet Nam.  A link for older adults who are interested is at http://www.peacecorps.gov/50plus/

For more information contact the local Peace Corps Recruiter, Kerry Carmichael at kcarmichael2@peacecorps.gov  or (510) 452-8455.
---
PublicHealth.org
http://www.publichealth.org/volunteering/
Without volunteers to rely on, it is hard to imagine how the public health industry could fulfill its mission. This website helps readers find:
How volunteering makes a difference
How volunteering can be personally beneficial
Things to consider when looking to volunteer
How to find the right opportunity
List of volunteering resources
---
RSVP 
A program for volunteers ages 55 and over. Its primary focus is to help volunteers and nonprofits benefit from skills-based giving through the Know How Network. Additionally, RSVP serves as a referral link for volunteers interested in ongoing predefined volunteer opportunities at nonprofits that address two of Contra Costa's most critical needs: poverty and aging in place. https://www.nationalservice.gov/programs/senior-corps/senior-corps-programs/rsvp
---
Taproot Foundation is a nonprofit organization that makes business talent available to organizations working to improve society. http://www.taprootfoundation.org/ 
---
University of the People Volunteer Opportunity
The University of the People (UoPeople; http://uopeople.edu/) seeks faculty to volunteer to help in the development and instruction of several new programs - a new Bachelor's level major in Heath Sciences and an MBA program - as well as the addition of more general education Arts & Sciences course.
UoPeople is a non-profit, tuition-free, online university accredited by the Distance Education and Training Council (DETC); It is dedicated to opening access to higher education globally. Founded in 2009, the University currently has over 2300 enrolled students from over 150 countries and continues to grow. For more information and to register your interest in volunteering, please contact Dr. Roxie Smith, Vice Provost at rrs20@columbia.edu.
---
The U.S. Foreign Service
Almost 9% of those entering U.S. Foreign Service jobs are over the age of 50. While there is an age limit of 60 for entry on duty as an Officer or Specialist, more than 18% of our Foreign Service Specialists are older than 50 on entry. And there is no age limit for Consular Fellows, who serve a limited term five year appointment. Our oldest Consular Fellow was almost 70 on entry! Working in the Foreign Service offers unique rewards that few other professions can match, including the experience of not just visiting, but living in, a foreign country, as well as the pride and gratification of representing the United States in an official capacity. Consular Fellows serve their country by facilitating critical bilateral trade, commerce, tourism, and cultural exchanges, while at the same time strengthening U.S. border security. Serving as America's "face" to literally thousands of foreign nationals yields incredible rewards.
For more information on Foreign Service opportunities with the U.S. Department of State visit: careers.state.gov or contact Diplomat in Residence for the Northwest Micaela Schweitzer-Bluhm at DIRNorthwest@state.gov or 202-279-1560. Or, pop over to the Cal Career Center, where she holds office hours.
---
Volunteer Match
http://www.volunteermatch.org/ 
Helps you locate volunteer opportunities in your own community. VolunteerMatch believes in the power of volunteering to enrich our lives and the world around us. They are proud to be supporting a community that grew to over six million users in 2008.