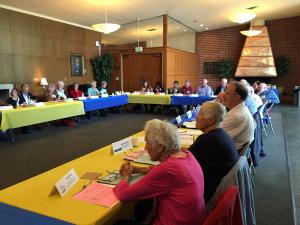 CUCRA and CUCEA

One of the best ways you can advocate for retiree rights and benefits at UC is to join a retiree or emeriti association.  Each of our four associations belong to the Council of UC Emeriti Associations (CUCEA) or Council of UC Retiree Associations, which regularly meets with UCOP staff to promote items of importance to UC retirees such as retiree benefits and privileges. 
Click here to visit the CUCEA website.
Click here to visit the CUCRA website.

CUCEA Reports on emeriti/ae activity
Click here to read the 2015-2018 UC Emeirit Survey Results "A Virtual Eleventh Campus The Ninth Inventory of University of California Emeriti Activity"
Click here to read the 2012-2015 UC Emeriti Survey Results " A Vitual Eleventh Campus"


CUCRA Reports on retiree actvity
Click here to read the 2020 Retiree Survey Report — "UC Retirees: Generous Talents, Enduring Community 
Click here to read the 2016 UC Retirees Advocates - Ambassadors - Assets

Click here to see UC Travel Interest Program offerings through our parnters at Collette Tours.