Contact Us
UC Berkeley Retirement Center
101 University Hall
Berkeley, CA 94720-1550
Email: ucbrc@berkeley.edu
Phone: (510) 642-5461
Fax: (510) 643-1460
Open Hours
Our offices are currently physically closed through June 30, 2021 due to the pandemic. Phone and email messages are returned within 2 business days.
Directions to UCBRC
The Retirement Center is located in University Hall, near the west entrance to the UC Berkeley campus, at the corners of University Ave and Oxford St. All public and non-affiliated UC guests will be able to enter University Hall at this entrance during normal business hours, 7:30 am - 5:30 pm, Monday-Friday.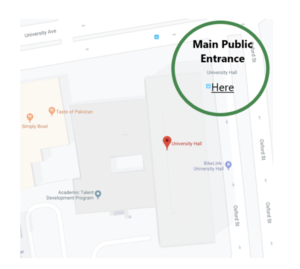 Street Address:
2018 Oxford Street
Berkeley, CA 94720
Link to map of Oxford Entrance
Phone: (510) 642-5461
By BART: We are  a two-minute walk from the Downtown Berkeley BART station.  Exit and walk one block north on Shattuck Ave. Turn right onto the north side of Addison Street. Walk one block east. University Hall is located at the southwest corner of Addison and Oxford Street. Suite 101 is in the northeast corner of the building.
By AC Transit: AC Transit bus lines 1, 18, 49, 51B, 65, 67, 800, and 851 stop at the Berkeley Bart Station.
Parking:  2-hour metered parking is available for the public on the street around our office. 
Retirees may also purchase a "C" parking pass to use campus lots. For more information on purchasing a "C" pass, go to: http://retirement.berkeley.edu/parking.
The Genetics Building parking deck is nearby for "C" lot parking passes- it's is located where BerkeleyWay dead-end's at Oxford Street.   Google map
For a map with locations of C" lots, go to: http://pt.berkeley.edu/parking/faculty_staff/fc_maps