Faculty considering retirement are invited to join "Planning Your Retirement Transition," a panel discussion with retired faculty on Monday, November 8, 2021, 3:00 - 4:30 pm.
This session, facilitated by Professors Emeritus/a Phil and Carolyn Cowan, and Sheldon Zedeck, Department of Psychology, is designed to help you start thinking about life after retirement. A panel of retired faculty members will discuss their experiences transitioning into retirement. A second panel of retirees and partners will also discuss their experiences. Faculty family members/partners are strongly encouraged to attend.

Topics include: How to continue your academic interests, your relationships with your non‐retiring colleagues, and what will this transition be like for your family. 

This workshop is held in partnership with the Emeriti Association (UCBEA), the Retirement Center (UCBRC), and the Office of the Associate Vice Provost for the Faculty.

Questions? Sigrid Mueller at emeritiacademy@berkeley.edu. 
Office of Faculty Equity and Welfare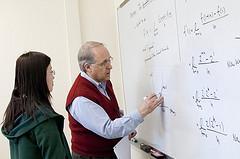 Office for Faculty Equity & Welfare  website has a comprehensive list of retirement resources tailored for Faculty to plan their transition into retirement.  Find out about first steps, emeriti privileges, Professor of the Graduate School appointments, and more.

Faculty Retirement Liaison - Professor Emeritus Sam Davis serves as Faculty Retirement Liaison and is available to meet one-on-one with ladder-rank faculty who are considering retirement . Sam is available to help identify common issues and ways for the campus to address them, as well as offers assistance in negotiating pre- and post-retirement arrangements with chairs and deans, including Pathway to Retirement agreements.
Pathway to Retirement Option -  UC Berkeley offers a special option to faculty who intend to retire and would like to make a smooth transition from everyday expectations in research, teaching, and service to an engagement with the University that is tailored to their special circumstances.  A Pathway to Retirement agreement can create a multi-year period of transition that includes special provisions before retirement as well as additional provisions after retirement.     
Book Donations
Better World Books 
http://www.betterworldbooks.com/go/donatebooks 
Better World Books collects and sell books in order to help support and fund literacy initiatives worldwide.
They operate through a network of over 2,300 college campuses and partnerships with over 3,000 libraries nationwide. 

Sales from books support literacy organizations changing the world through teaching kids, supporting families, building schools and filling libraries. In fact, a percentage of the net sale price of every book goes to these causes. Any books they can't sell are either donated directly to one of their non-profit partners or recycled.
Large donations: 
Please contact us at clientservices@betterworldbooks.com
Dropbox locations closest to campus: 
Powell Street Plaza: BDB
5795 Christie Ave
Emeryville, CA 94608

El Cerrito Plaza: BDB
6050 El Cerrito Plaza
El Cerrito, CA 94530

Ygnacio Plaza: BDB
1881 Ygnacio Valley Road
Walnut Creek, CA 94598

To find other bay area locations, go to: http://www.betterworldbooks.com/go/donate