Board Meetings
The UCRAB Board meets on the 3rd Tuesday of each month (excluding August and December) at 10:30 am. You are welcome to join them. Meeting location varies, so email ucbrc@berkeley.edu if you plan to attend.
Meet the UCRAB Board Members
---
Lynn Bailiff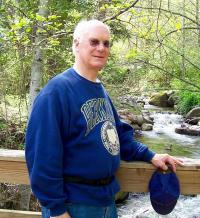 Lynn currently serves as President on the UCRAB Board. 
Lynn Bailiff began his career at Cal in 1975 as a member of then-Vice Chancellor Mike Heyman's staff. During the ensuing 21 years, Lynn worked in a variety of capacities to improve the quality of undergraduate education and to make Cal's undergraduate student body more reflective of the State's diverse population. These included 11 years as Executive Officer in the Division of Undergraduate Affairs and four years as Director of the Disabled Students' Program.
After taking early retirement from the University in 1996, Lynn managed a private-sector research company for five years and, since 2001, has assisted high school principals in the Oakland Unified School District with financial and organizational management. Lynn retired from the District in 2011, and continues to stay active with part-time consulting.
Lynn joined the UCRAB Board in July 2013 and served as Treasurer from July 2014 through September 2015, when he was named President by the Board.
Lynn also finds time for traveling with his wife Fran, listening to jazz and classical music, and walking daily in the Oakland Hills.
---
Lola Harris
Lola Harris serves as Vice President.
---
Kathleen Demerdjian

Kathleen Demerdjian, who has been serving as a UCRAB Director, will be serving as Treasurer as of December 2015.

She is also Treasurer of the East Bay Rose Society and a member of the American Rose Society. For over 27 years Kathleen was an administrator at both the UC Berkeley and UCSF campuses, which enabled her to learn about the junior year abroad, biotechnology, chemistry, medicine and the Arabic language.  Her other career was teaching -  business and English subjects to Ohio high school students and going abroad to teach English as a Foreign Language to businessmen at a South Korean iron and steel company, to university students in a Tokyo, Japan suburb, and to women university students in the United Arab Emirates.  All of these experiences led to trips throughout Asia, Africa, Europe and the Middle East.  After retirement, she has been taking many UC Berkeley OLLI classes, UCRAB trips, and traveling to England, Ireland, Italy, Spain, the American Southwest, and to the World Federation of Rose Societies' conferences in New Zealand and France.
---
Marian Gade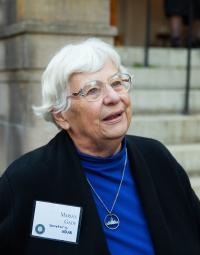 Marian Gade serves as Secretary of the UC Retirees' Association at Berkeley and as its representative on the Center Policy Board. For 35 years, both within the University and through other sources, Marian was a Research Associate with UC President Emeritus Clark Kerr, working with him on a variety of projects, mainly involving studies of college and university governance, finance, and history. She assisted with the research, organization, and editing of his two-volume set of memoirs of his years as Berkeley Chancellor and UC president. For the last two years of her employment, Marian was also Deputy Director of UC Berkeley's Center for Studies in Higher Education.
Marian is active both organizationally and playing/singing music with the San Francisco Folk Music Club. She is a 50+ year Girl Scout and a former president of the SF Bay Area Council. She served five years as chair of CUCRA (Council of University of California Retiree Associations). Marian is a former whitewater kayaker and kayaking trainer. Other long-time and current interests and activities include being a ham radio operator involved in West Contra Costa County emergency preparedness efforts, and she is the grandmother of a 12-year-old girl.
---
Lynn Baranco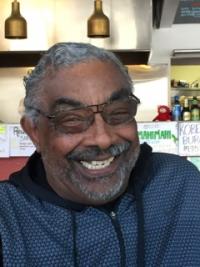 Lynn is a UCRAB Director and Luncheon Coordinator.
Lynn Baranco began his career at Cal in the mid-1960s as the Upward Bound Director. Subsequently, he served in various positions, including Director of the Professional Development Program (PDP), Director of the Office of Relations with Schools, and Assistant to Chancellor Michael Heyman.

Since retiring from Cal in 1993, Lynn has been a Member and Chair of the Board of Trustees of the Peralta Community College District, Acting Director of the California Academic Partnership Program (CAPP), and the Administrative Program Manager of the California Gaining Early Awareness and Readiness for Undergraduate Programs (GEAR UP).

Lynn enjoys gardening, traveling, listening to various forms of music, and visiting with his three daughters, six grandchildren, and nearly four great grandchildren.
---
Patricia Hardy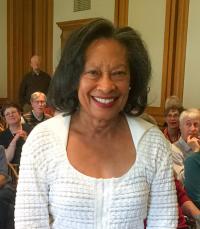 Pat is a UCRAB Director and Scholarship Committee Chair
Pat retired from the Department of Statistics after 40 years of service on the UC Berkeley Campus. She is also a UC Berkeley Alumni, with a BA in Sociology. 








---
Patti Owen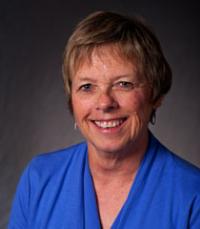 Patti started working on the Berkeley campus in 1975 while her husband pursued his PhD. Her first position was in the Academic Personnel Office, where she worked for 3 ½ years. She followed her husband to Paris while he did his doctoral research. Upon her return she worked in the Engineering Dean's Office for 10 years and at UC Office of the President for almost 5 years. She returned to campus in 1993 to serve as head of the Academic Personnel Office. At the time of retirement in 2009, she was the Assistant Vice Provost for Academic Personnel.

She enjoys traveling with her husband, especially to France where she spent her junior year abroad. She is an avid quilter and serves as a volunteer for Stitchin' for Kids. She currently serves as Chair of the Retirement Center Advisory Board.
---
Isabelle Revoir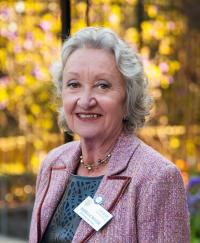 Isabelle Revoir serves as Membership Chair for UCRAB. Isabelle retired in 1993 after working for the Director of Administration as a supervisor in the School of Education, Media and Computer Services. She also served as liaison for campus emergency preparedness, risk management, etc.
Bill joined the staff of the Bancroft Library in 1966, while working on his MLS at Cal. In 1984 he was appointed Archivist for both the Berkeley campus and UC System, a position he held until his retirement in 2001. At that time, he was awarded the Berkeley Citation in recognition of his many contributions to campus during 35 years of service. Currently Bill volunteers as archivist for the Berkeley Historical Society and enjoys listening to classical music and traveling in Europe.  Bill serves as Editor of the UCRAB Newsletter.
---
Antonia Sweet
Toni Sweet serves as UCRS Liaison for UCRAB.
---
Iola James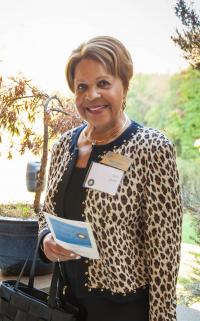 Iola James serves as the UCRAB Event/Trip Director for UCRAB.
She is the former President of UCRAB for six years.