by Cathy Cockrell

Her studio is her sanctuary: a small TuffShed, tucked behind the house, with views of a tiny working ranch, just steps from a refinery on the edge of Crockett.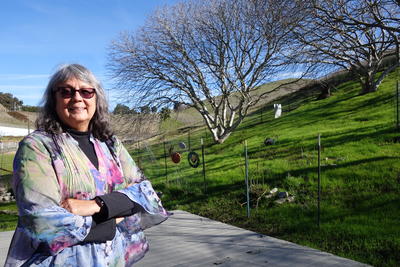 "If I didn't have it, I'd be a totally stressed out person," says Linda Lee Crisostomo, a 2007 retiree from UC Berkeley, where she began as a clerk typist in the Graduate School of Education and ended her career as a Sponsored Projects principal analyst.
Inside her studio -- surrounded by soft pastels, colored pencils, paint brushes, paint tubes, and framed artworks – Crisostomo spends four hours or more a day drawing and painting, with occasional breaks to observe red-tailed hawks, racoons, sheep, horses, and goats just outside her door.
Nature – in the form of flowers, birds, fish, mammals, and landscapes – is subject matter she returns to. Colored pencils allow her to portray, in precise detail, an osprey's plumage or the mane of a regal lion seen on African safari with her husband. Tropical fish lend themselves to vivid tones in a favorite medium, water color. She's an admirer of Van Gogh, for what she calls his heart, soul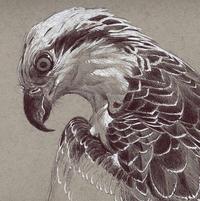 and passion for the world's beauty.
Crisostomo's artistic aptitude was first recognized more than a half century ago, when her third-grade potato-stamp design was selected for exhibition at the Santa  Cruz County Fair. Her family didn't have the means, though, for art lessons or supplies. Her mother, whose heritage is English and Native American (Zuni Pueblo), worked at home raising six children, before getting a job as a school-bus driver. Her father, a Filipino immigrant, led a farm-labor crew and followed the seasons to where labor was needed. Crisostomo has happy memories of gorgeous, contest-winning flying kites her dad fashioned from bamboo and rice paper, and of a season working alongside him in an apple-drying shed.
As an adult, raising three kids and working full time absorbed her energies. But as soon as she retired she joined a local artists' group and started taking classes.
These days Crisostomo invites her two grandchildren to work with her in the studio (each has a labeled drawer of art supplies). Her mother, now 90, lives in a nearby retirement home, surrounded by her daughter Linda's creations. There are more on the way. Crisostomo hopes to continue refining her pastel  techniques this year; already in progress is a landscape painting done in pastels on velvet.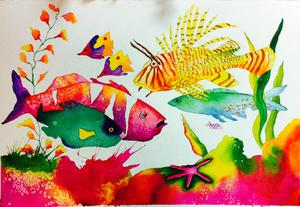 Images:  
Linda Lee Crisostomo outside her studio
"Osprey Eye" (colored pencils)
"Whimsical Fish" (watercolors)