by Cathy Cockrell

Since taking up art in his mid-fifties, Patrick Hayashi stays in touch with his "inner idiot," as he puts it, by going crazy with media.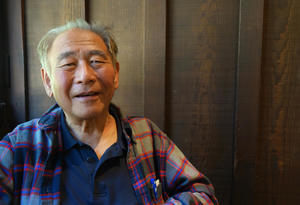 Monotype prints, etchings, encaustic paintings, paintings done with acrylics, pastels, alcohol-based ink, Sumi ink -- in his basement studio the UC retiree experiments freely with methods and materials.
He has even explored smoke painting, a medium he discovered accidentally while setting on fire a monotype he hated. When the flame got out of hand, Hayashi quelled it with a spatula and, flipping his paper over, liked what he saw. Since then he has trained himself to lay down abstract shapes with smoke, then sculpt the carbon particles, with small tools, into expressive landscapes.  
"I'm working in the tradition of American tonalists, who didn't try to describe a place realistically," he says, "but rather to evoke an emotional or spiritual state." Much of his work is related to growing older and informed by the Japanese concept of mono no aware, or "a gentle sense of sadness in the passing of all things."
Hayashi, now 75, "knew nothing about art" and had rarely visited an art museum before taking his first drawing classesas he approached retirement. Born at Topaz, one of the concentration camps to which Japanese Americans were forcibly removed during WWII, his family moved back to the Bay Area and settled in Hayward after the war. At 12 he lost his mom.
In 1967, after earning B.A. in English at UC Berkeley, Hayashi took a job as a mail carrier on the campus; in 2005 he retired as associate president of the UC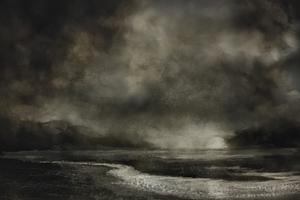 system. In between he served at Berkeley as coordinator of Asian American Studies, special assistant to Chancellor Heyman, and associate vice chancellor for admissions and enrollment, among other roles.
A reader of wide-ranging interests (currently in progress: Patti Smith's Just Kids, Stephen King's On Writing, a Donna Leon mystery, and Who We Be: A Cultural History of Race in Post-Civil Rights America by Jeff Chang), Hayashi often paints with a literary passage "floating around" in his head. "Once a pairing happens, it deepens the painting," he says.
Music inspires as well. Hayashi has created several oil paintings on the atomic bombings of Japan in Auust 1945, while listening to Pavarotti's rendition of the beautiful hymn "Panis Angelicus" ("Bread of Angels"). After recovering from a mild heart attack and emergency bypass surgery last August, he felt drawn once again to explore the destruction wrought on Hiroshima and Nagasaki – this time working more abstractly so as to get to the essence of those events. And it was to the spiritual "Going Home," set to Dvorak, that he did a portrait, in smoke, of Angie Parrocha Orante, a devout Filipina who, as she was dying of lung cancer, felt she was going home to God.
Art making, for Hayashi, is both profoundly solitary and a means for deeply connecting with other people. His studio is where he paints alone and where a dozen or so artist friends gather regularly to draw from a live model. "I found a community of people who really are devoted to art," he says. 
Going forward, Hayashi would like to do a series of monotypes exploring his "increasing invisibility" as he ages. Another goal for 2020 is to learn animation, for an animated comic strip on "this old Asian guy, me" -- what he goes through and "the advantages of getting old. That will be my next project."
For more on Patrick Hayashi and his work, see: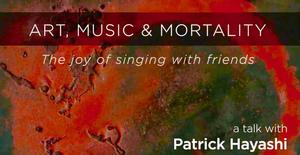 PatrickHayashi.com

Video: 2019 talk by Hayashi on "Art, Music and Mortality" 

Article: Interview by Bryan Thao Worra