Sunday, March 25, 2-4pm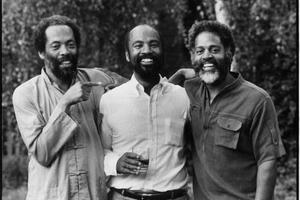 Northbrae Community Church
941 The Alameda, Berkeley
Parking available but might be limited. The location is accessible.
Space is limited! Contact infor@ashbyvillage.org or call 510-204-9200 with full contact information (first and last name, phone number and email) of each person attending.
Or, reserve online.                     (Photo by Deborah Woo)

This is a celebration of a remarkable friendship. Each of the three people involved has had a distinguished career. For the first time, all three of them come together on stage to discuss and remember the ways they have sustained each other. After growing up in a highly segregated world, throughout his working life each of the three often found himself the first black person to fill a particular job or receive a particular honor.

Troy Duster and Russ Ellis were both professors at Berkeley; Duster became president of the American Sociological Association and Ellis served as Vice Chancellor. Thelton Henderson spent 37 years as a federal judge, seven of them as Chief Judge of the Ninth Circuit of the U.S. District Court.

This trio of outstanding public servants will be in conversation moderated by Adam Hochschild, the author of eight books and a co-founder of Mother Jones magazine. He is currently a lecturer at the U.C. Berkeley's Graduate School of Journalism.

The event is sponsored in collaboration with UC Berkeley Retirement Center. Donations will be invited to support partnership activities of Ashby Village / UC Berkeley Retirement Center.