Abstract:
Cary Sweeney
March 2022

Pets are proven to improve your health. Decades of research show that human-animal interaction (HAI) can help improve diseases and conditions like diabetes, heart disease, loneliness, depression, anxiety, falls, autism, and ADHD.  

Some of you who came by the Retirement Center may have met our senior dog Schnitzel.  It was clear that when he was around the mood was lighter, meetings were more enjoyable. Sometimes we'd get guests just to see him. Colleagues in University Hall regularly stopped by the office to pet and hold him and to take a rest from the grind of the day. And he would willingly accept the affection. 

At Virginia Commonwealth University where I studied, and my niece will be going to in the fall, the Center for Human-Animal Interaction was established in 2001 in their School of Medicine, Department of Psychiatry. A research center, its purpose is to improve health and well-being through human-animal interaction. Similarly, Missouri University, College of Veterinary Medicine has the Research Center for Human Animal Interaction (ReCHAI). And the National Institute of Childhood Health and Human Development recently featured a spotlight on over a decade of Human-Animal Interaction (HAI) Research. These are just a few examples of the resources invested in researching the bond and connection that we know to be powerful.  

The American Pet Products Association (APPA) found that 68 percent of U.S. households owned a pet in 2016. If you are a part of the 32% of Americans who do not currently have a pet, but are considering getting one, here are a few things to keep in mind, especially in retirement. 

Get to know their personality
When I met Schnitzel, he was the only dog not barking in the group. He jumped up on the couch, rolled over for a belly scratch and was relaxed. I noticed he didn't shed (i.e. hypoallergenic) and in talking to the foster family, he had some issues urinating/marking in the house and he had issues with being on leash.  I knew I was going to work with him on these issues. Many adoption agencies will provide tools and classes to help you with this. Because he was older, however, I knew I wasn't going to have to manage the energy and training of a new puppy. 

Adopt a Senior Pet! 
Some shelters have programs especially for older adults to match them with a senior pet and waive some fees for those on a fixed income.  SPCA Senior for Senior Program in the East Bay will help select a senior pet (ages 7 and up) and for those 65 and older. Muttville, a senior dog rescue in San Francisco also has a Senior for Senior program that waives the adoption fee for 62+. Many agencies also have foster programs where you can help with fostering an animal until they are adopted- providing an alternative to owning. This article shares things to consider when adopting a senior cat. 

Consider the cost 
Expensive vet bills, special food, and regularly grooming adds up.  Here is a helpful article that provides an idea of the cost of owning a pet and another article with thoughts about affording a pet in retirement, and one more with detailed list of expenses.   Also, pet insurance is available for UC retirees through Nationwide.  Insurance plans typically have an age limit for the animal. One promise I made to Schnitzel was to focus on his overall comfort and enjoyment of life. All his care decisions were made in the spirit of palliative care- no invasive, expensive surgeries.

Pets are an important part of our health, and healing. During times of uncertainty and loss, they can provide comfort and companionship.  While my love was with a senior dog, pets of all ages, types and breeds can be beneficial.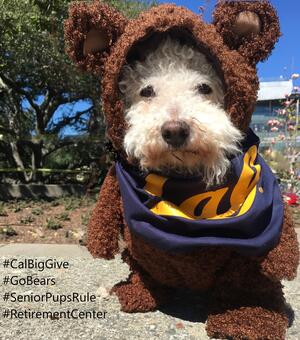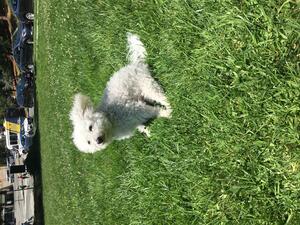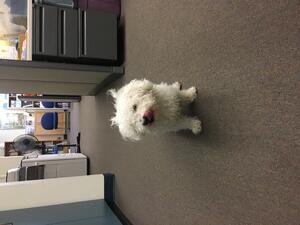 —-
This article is dedicated to Schnitzel Sweeney who passed on to the Rainbow Bridge on February 5, 2022. We met when he was 7 and he went on to live another 8 years. He rode motorcycles, bicycles, hopped in any bag you put in front of him, loved treats provided by the staff and retirees and walks on the Crescent Lawn. He was a loyal companion and we were lucky to be in his life.