Online Payment Process
We are partnering with University Village at UCBerkeley to manage online credit card transactions for bMail service and retiree parking permit purchases. To use this service you will first need to create an account in the University Village portal.
Steps to creating a new account in the University Village portal:
Step 1: Register a New User Account.
Go to: https://uvrec.berkeley.edu/Account/Register. You will only need to complete the items which are indicated by a star, and which are listed below.
Name, First and Last
Desired Username
Password
Confirm your password
Email address
Home Phone Number
Address
Terms of Use - Confirm that have Read and Accepted Terms of Use (Terms of Use is located at the bottom of the UV footer on the left side)
Email Opt-In - Do Not Select Email Opt-In (it connects you to University Village news and promotional emails, not to UCB Retirement Center)
Step 2: Activate the account
Before you can use your account it must be activated. Instructions on how to activate your account will have been emailed to you. Please check your email and follow the instructions to activate your account. Note: Email delivery can be delayed by several minutes. Check your junk or spam folder or filter if you do not receive this email
Once you've successfully activated your account you will be able to sign in and begin using your account.
Steps for renewing your bMail service or activating a new service, or purchasing parking passes, using the University Village portal:
Step 1: LOG IN to your newly created account by clicking the LOG IN button in the upper right corner. Once logged in you will see your user name at the top right corner
Step 2: Scroll down the page and select the Retirement Center Online Store icon. See image below.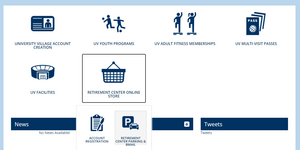 Step 3: Select Retirement Center Parking and bMail
Step 4: Select the Retirement Center item you wish to purchase 
bMail Retiree Annual Renewal (for people who are renewing existing bMail retiree service)

bMail Retiree New Account (for new retirees who are activating a new bMail retiree service)
Retiree Campus Parking Permit (C scratch-off Parking Permits, these are limited and sold only in batches of one, for $6 per pass)
Retiree Night & Weekend Permits (Sold in batches of 10 for $53.75)
Step 5. Select Duration & Add to Cart
Click on the Duration bar listed on the page and then click on the ADD TO CART button.
**You can ignore the Effective Date, the date listed here does not actually corespond to your bMail service date. The true effective and end date of your bMail service is indicated on your electronic bill and will always go until the end of the month it is due.**
**Parking permits do not have an expiration date. **
Step 6. Select Checkout
Step 7. Select Checkout again
Step 8. Complete payment information