The World Is Closer Than You Think

The Council of University of California Retirement Associations Travel Program benefits the CUCRA treasury, and member Associations. When conferring with Collette staff, retirees should be certain to indictate their UC afilliation.

These tours are not just for UC Retirees; feel free to invite your family and friends to join you.  Tour cost includes round trip air from Los Angeles International Airport, air taxes and fees/surcharges, and hotel transfers. Additional gateways are available, please call Collette for details. Not included in price is cancellation waiver and insurance. For more information on extensions, options and reservations, contact Collette at 1-800-581- 8942 and provide tour reference number and/or check out the individually referenced tour link https://gateway.gocollette.com/link/+tour number.
.
If not interested in any of the following tours, check out all of Collette tours at http://travel.gocollette.com/ and through their World Connect program, mention promotions code U001.AX1.918 and University of California Retirees Association when calling their office at 1-800-437-0235. 
---
2018 Travel Tours Announced:
Spring on the Barrier Reef, February 27 to March 13, 2018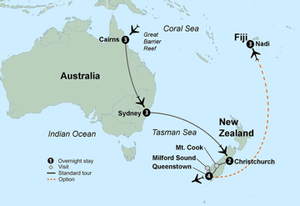 The Barrier Reef has been much in the news of late because of the damage that warm ocean waters have inflicted on the coral. Here is an opportunity to visit this still vibrant wonder along with salient features of Australia and New Zealand with an optional trip to Fiji. South Pacific Wonders departs LAX Tuesday, February 27, 2018, and returning March 13. Early booking will save $500 for a double- occupancy cost of $5899 including air fare, taxes, fees and hotel transfers. The tour begins in Cairns, Australia, with a catamaran trip the following day.to view the Great Barrier Reef in a glass-bottomed boat Later you will meet the indigenous people of Australia and experience their culture and traditions, explore the rainforests and meet the local koalas. In Sydney, you will learn of about the original English settlers who arrived in 1788 while you explore the city. March 7, you will arrive in Christchurch, New Zealand, where you will have dinner with a local family. You will have an opportunity to visit a sheep farm before reaching Queenstown, where you will take a gondola to dinner. The following day's exploration includes a visit to a winery. During the next two days, you will explore the fjords and mountains of the area where The Lord of the Rings movies were made. For more information


The Real Vietnam, March 1 - 15, 2018
Tour #808870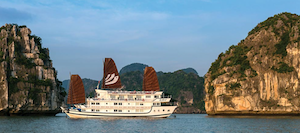 The beauty of this country and the joy of its people stands in sharp contrast to the documentaries and movies that feature the U.S. involvement in this country. You will arrive in Ho Chi Minh City, formerly known as Saigon, and delve into the history, culture and cuisine of this bustling city. March 5, you will fly to Hanoi, where the stamp of colonial France remains clearly alongside the traditional architecture of the city. The tour takes in Ho Chi Minh's mausoleum and his simple home, the One Pillar Pagoda, surrounded by water and the traditional architecture of the Temple of Literature, the site of Vietnam's first university, built in the 11th century. You will see traditional water puppets and learn about traditional cuisine from a local chef. You will venture into the countryside to experience village life and visit 8th and 10th century temples. A trip to Halong Bay, where thousands of green and limestone islands rise out of the South China Sea, is an experience of a lifetime. You will spend a night on a traditional junk and eat fresh seafood caught in the warm crystal waters beside your Vietnam Mapboat. Another delight awaits in Hue, formerly the Imperial capital city, which sits alongside the Perfume River in the center of the country. Hue contains some of the oldest religious buildings in the country, but its mausoleums more closely resemble many-roomed summer palaces, retaining an air of mystery and seclusion. Pick up a traditional conical straw hat in the Hue market, Dong Ba, where you will often find a poem amid the straw. On your coastal journey back to the South of the country, you will see that Vietnam is a country that redefines the meaning of green both in the rain forests and the rice paddies where workers in traditional conical hats work the fields. In Da Hang, you will visit a museum featuring artwork of the Cham. This minority group, originally Austronesian marine migrants, while Muslim in other parts of Southeast Asia were Hindu in Vietnam and their artwork reflects this profound difference. In Hoi An, you will take part in a cooking class, learn about traditional ingredients in the local market, make a lantern in a local workshop, and visit a local herb farm. For more information. or, call 1-800-581-8942 for information and bookings.

Spain's Classics, April 7 - 17, 2018
Tour #809065


Experience Spain's colorful pageant of art, history and culture.Set against a backdrop that spans sunny Mediterranean shores and grand mountain ranges, this stunning destination is dotted with white pueblos and groves of oranges and olives. Explore the priceless treasures of the Royal Palace, one of Europe's largest palaces. For more information: 
https://gateway.gocollette.com/link/809065